Grab some friends. Pour a drink. Let's get knitting!
Want to learn to knit but don't know where to start? Attend one of our modern knitting workshops or host your own.
All workshops are great for anyone age 12 or above.
Gift certificates also available. Grab yours here.
Part 1: LEARN TO KNIT


Receive 2 hours of hands-on instruction on the basics of knitting:

casting on

knit stitch

purl stitch

binding off

You will also learn how to read a yarn label and knitting patterns. With these foundational skills you will be able to create a variety of your own cozy modern knits.
By the end of the class we will get started on your very first project - a headband.
Each participant will receive a knit kit with all the materials needed to get started, not to mention a pretty awesome time out to meet people, mingle and knit!
This workshop is ideal for beginners. No experience necessary.

Book early! Spots are limited to allow for plenty of one-on-one attention.
Price: $50 per person

Location: David's Tea, 95 King St S, Waterloo (facing Willis Way)
DATES
Thursday November 7, 2019 - 6:30-8:30pm

Thursday December 12, 2019 - 6:30-8:30pm

Thursday January 9, 2020 - 6:30-8:30pm
Sunday February 23, 2020 - 1:00-3:00pm
Friday March 13, 2020 - 6:30-8:30pm
Or book your own private workshop. See details below.
Part 2: LEARN TO KNIT IN THE ROUND
For those who have taken the Learn to Knit class and want to kick things up a notch. Learn to knit in the round using circular needles. This technique is used for making hats, cowls, boot cuffs, infinity scarves, and more - without any pesky seams! You will also learn how to increase and decrease, add in another colour of yarn and do cables. A jam-packed class sure to advance your knitting skills. Should already know how to cast on and do the knit stitch.
We will get started on your first circular knitting project - a simple cowl.
All supplies included
Price: $50
Location: David's Tea, 95 King St S, Waterloo (facing Willis Way)
Dates:

Thursday November 14, 6:30-8:30pm - Registration opening June 15th
PROJECT CLASSES register here
Sweetheart Hat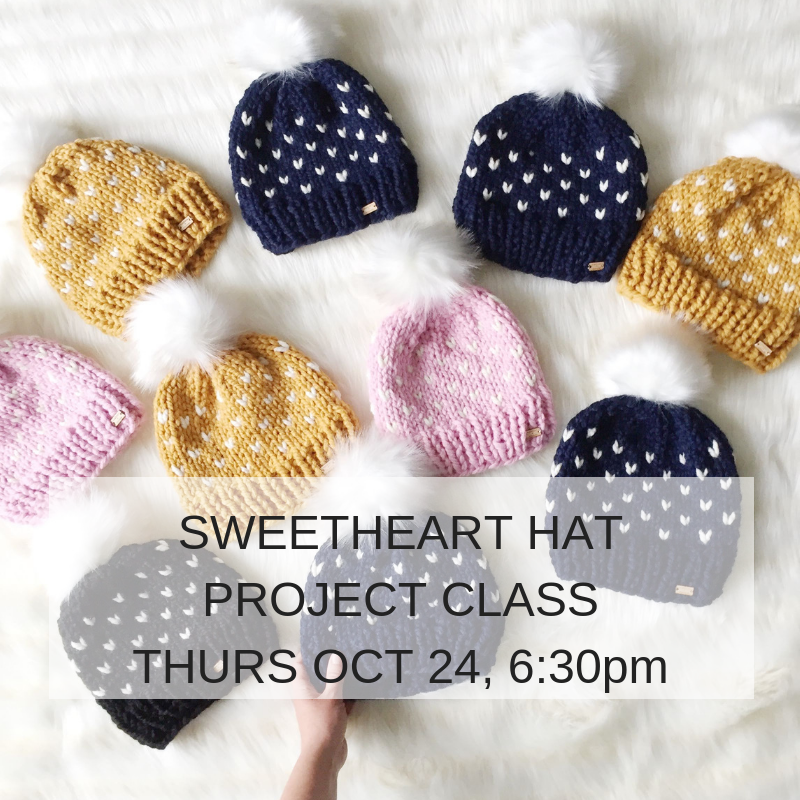 Mini Hats Garland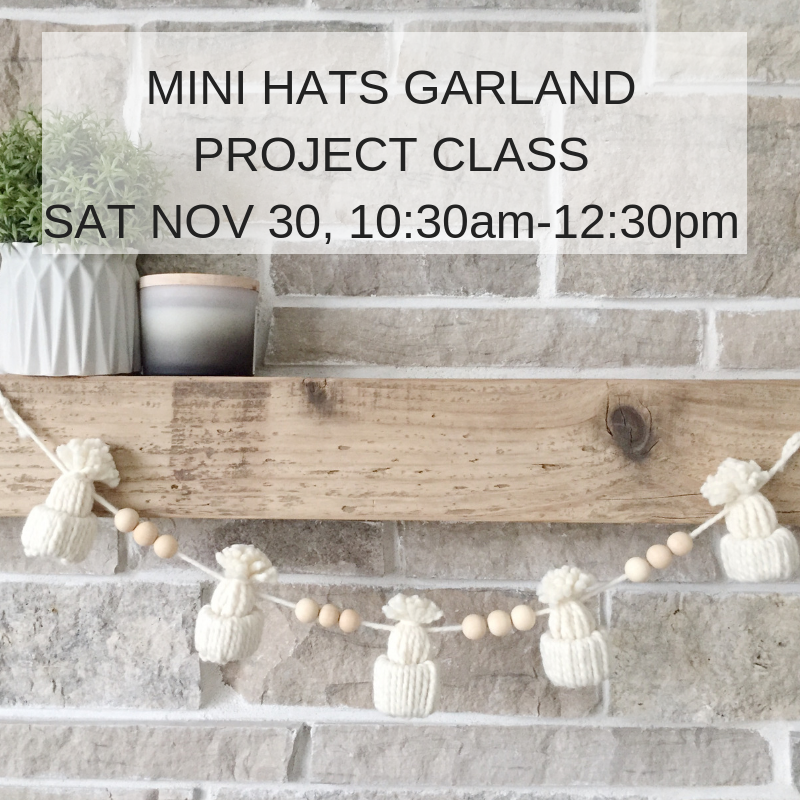 Bubble Hat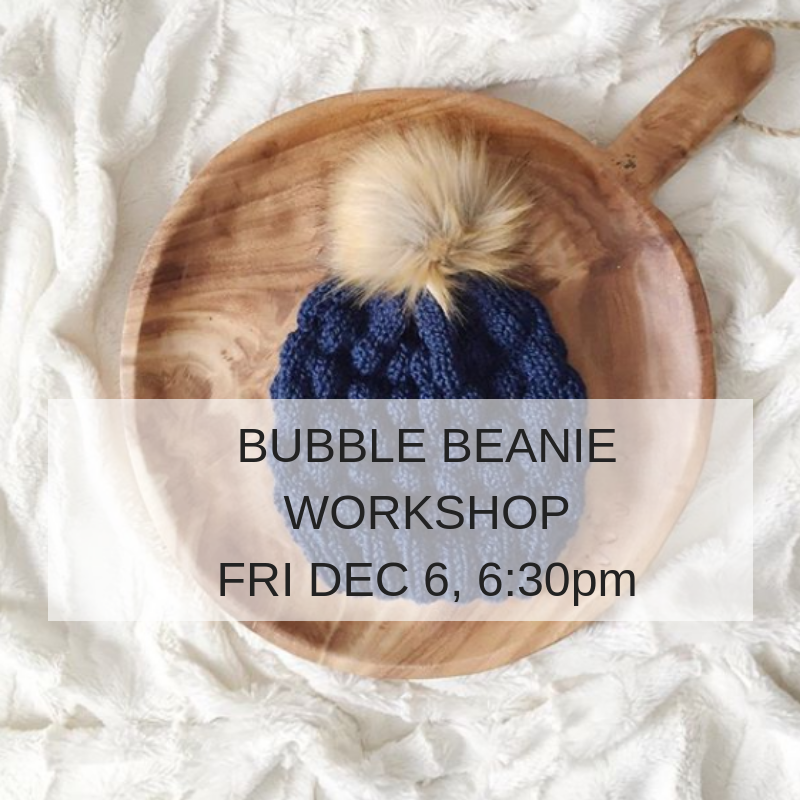 HOST YOUR OWN LEARN TO KNIT WORKSHOP

I will come to you - whether it is your home, workplace or other location. I recommend a table with a seat for everyone or some cozy couches for a comfortable workshop experience. I've also done outdoor picnic-style workshops too - choose whatever works best for you, your guests and your space. David's Tea in Uptown Waterloo is also an option - search them online to see their hours of operation.
Minimum 4 to maximum 10 people with one instructor. Larger groups can also be accommodated upon request. Cost is $50 per person, all supplies included. Now booking in Kitchener-Waterloo, Guelph, London, GTA and surrounding areas.
We love our hosts, so with 5 people (6 including the host) then the host is free! We encourage offering a beverage and snacks to make it a more fun social event.
Email us at cabinandcoveknits@gmail.com to set a date. We will then create an online registration link for you to share with your friends.
Looking forward to some crafty time together!
Testimonials

"I was very nervous to learn how to knit but from the moment the workshop started I felt at ease. The workshop may be in a small group setting but everyone got some one-on-one attention to help with our individual needs. I felt very confident with my new skill when I left and later signed up for the next one!" - Emily
"After many years of wanting to learn how to knit, Jillian taught me in 2 hour lesson (miracle worker!) and I have since knit cowls, headbands and scarves. She is a fabulous teacher and made it click for me, and got me hooked!" - Jill